Hearing Aid Styles
Choosing the right hearing aid is a big decision. Part of making the right choice is knowing a bit about the different styles available and what they can offer you. Hearing aid styles are designed for a wide variety of hearing needs, so here's a handy guide to the key features of the most common styles.
Behind the Ear (BTE)
Behind the Ear hearing aids consist of a hard plastic shell that rests behind your ear and a plastic tube that connects to an ear mould fitted to your ear canal. BTE models are some of the largest hearing aids available. This makes them more noticeable than other styles, but also easier to manipulate.
Additionally, Behind the Ear hearing aids are tend to be among the most durable hearing devices on the market. If you are challenged with profound hearing loss, BTE hearing aids are capable of delivering the most powerful amplification and may be your best style option.
Mini Behind the Ear (Mini BTE)
Alongside Behind the Ear models, Mini BTE hearing aids have a different approach to delivering sound to your ear.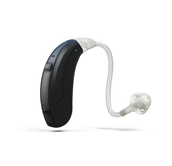 The microphone and amplifier of the hearing device is still contained in a compact shell that rests behind your ear. Sound is delivered to your ear through a small ear bud, rather than a moulded form that fills the canal. The ear bud leaves some of the ear canal open and can give a more "natural" sense to assisted hearing.
Receiver in the Canal (RIC)
Receiver in Canal hearing aids place a discreet shell tucked behind your ear, with wires connecting to a small ear bud or ear mould with a receiver that delivers sound to the ear canal. RIC hearing devices are smaller than BTE type hearing aids and therefore, less noticeable.
Receiver in Canal hearing aids can deliver powerful hearing assistance and some of the best overall sound quality of all the styles. RIC models are often on the cutting edge of technology advancements and smart device compatibility.
In the Ear (ITE)
Hearing aids that are In the Ear consist of a moulded plastic shell that rests in the outer ear and holds all components of the hearing aid. In the Ear models are easy to use and care for. They are well suited for telephone conversations and can make use of directional microphones.
However, because they are worn in the outer ear they are among the most noticeable styles of hearing aid.
Completely in the Canal (CIC)
If invisibility is a priority, a completely in the Canal hearing aid may be your top choice. The hearing aid is moulded to your ear and placed entirely inside your ear canal. CIC hearing aids are lightweight but they also don't have the performance capabilities of larger models.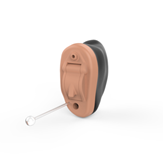 To use completely in Canal hearing aids requires good dexterity – the small devices have even smaller batteries, and the hearing aids can be hard to place if you have coordination challenges. Like ITC and ITE hearing aids, CIC styles are easy to use with a telephone. They make use of your natural ear shape to create directional hearing.
Invisible in the Canal (IIC)
Similar to CIC models, Invisible in the Canal hearing aids are placed even deeper into the ear canal. IIC models are the most discreet of all hearing aid options but their capabilities don't make them available for all levels of hearing loss.
Additionally, they require coordination to place correctly and change batteries. IIC models deliver clear sound without the risk of feedback, and for some people feel the most natural of the hearing aid designs.
---
TOP HEARING AIDS BRANDS

---
COCHLEAR IMPLANTS
Cochlear implants are prosthetic devices that provide hearing for persons with severe to profound hearing loss who receive little or no benefit from hearing aids. Tiny wires (electrodes) are surgically inserted into the cochlea (an organ of hearing). The cochlear implant converts sound energy into electrical signals and stimulates the auditory nerve.
How a Cochlear Implant Works
A cochlear implant goes on both the outside and inside of your head. These parts work together to help you notice sounds.
External, or outside, parts:
You will wear a device that looks like a hearing aid behind your ear. It has a microphone that picks up sounds and sends them to a speech processor. The speech processor turns the sounds into a digital signal.

The speech processor sends the signal to a transmitter. This device goes on your head, behind your ear. The transmitter sends the signal to a receiver under your skin. A magnet holds the two together.
Internal, or inside, parts:
The receiver is under the skin behind your ear. It sends the signals to electrodes in your inner ear, or cochlea. The electrodes trigger the auditory nerve. This lets your brain notice the incoming sounds.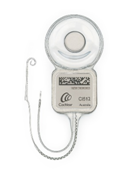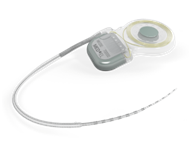 Who Can Get a Cochlear Implant?
Cochlear implants will not work for everyone. They may work for adults who:
Have severe to profound hearing loss in both ears
Have found that hearing aids do not help them
Have no other medical problems that would make surgery risky
Want to be able to listen, speak, and speechread
Started to talk before they lost their hearing
Children can also get cochlear implants. They may work best for children who:
Have profound hearing loss in both ears
Were not helped by hearing aids
Have no medical problems that would make surgery risky
Will be able to get treatment to work on hearing skills
If your child is old enough, it is helpful if he/she can:
Be a part of all the steps in the process
Understand what he/she needs to do to use the cochlear implants
Understand what the implants can and cannot do for her hearing
Be ready to work on his/her hearing and speech skills
It is important that your child has your support. This will help him have success with the cochlear implants.
---
TOP COCHLEAR IMPLANT BRANDS
---
BONE CONDUCTION HEARING AIDS
Bone conduction hearing aid used for the treatment of hearing impairment associated with atresia, microtia, or auditory canal abnormalities.
Bone Conduction and Hearing
All humans hear sound through both bone-conducted transmission and air transmission through the eardrums. Generally, the bulk of sounds we hear is heard through our eardrums.
How Does Bone Conduction Hearing Work?
This modified unit eliminates the use of a headband. This hearing aid is a great alternative to those individuals who do not wish to go the surgical route. For those who choose to proceed with the surgical route, this hearing aid is routinely used until all stages of surgical intervention are completed.
This hearing aid requires the bone oscillator to attach to the mastoid area with double sided tape. The hearing aid may be hung off the ear opposite to the bone oscillator or clipped to the users clothing using an alligator clip.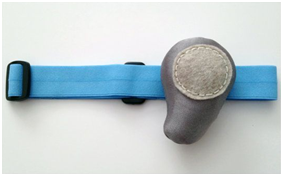 One must take special care with this instrument especially where the cord attaches to the jack. The jack can be ripped from the hearing aid quite easily if the cord is yanked.
Benefits of Bone Conduction Hearing Devices:
Bone conduction hearing aids are most appropriate for those suffering from conductive hearing and/or mixed hearing losses. They are also ideal for those experiencing hearing loss in one ear (single-sided deafness). If you have mixed hearing loss and have trouble wearing conventional In the Ear(ITE) or Behind the Ear(BTE) air conduction hearing aids, you may find bone conduction hearing aids work well.
He`aring amplification is offered without the need to have an ear mould or hearing aid inserted into the ear canal.
Very comfortable in comparison to a standard/conventional hearing aid.
The bone conduction hearing device reduces risk of infection in the ear canal.
Some bone conduction hearing devices are compatible with smartphones, which means they can be used to monitor and control certain features.
Compatible with Assistive Listening Technologies such as telecoils, FM systems, and neck loops.
The majority of conductive hearing loss cases stem from eardrum damage. Because bone conduction does not rely on the eardrums for hearing, people with hearing trouble would be able to hear properly again with bone conduction, as long as their cochlea is in a healthy and working state.
A bone conduction hearing aid is one component for managing and improving your hearing. When you make a decision to obtain a bone conduction hearing aid, it is highly recommended that it be used as part of a general therapy program. Our specialized audiologist will work with you to design an appropriate therapy program to help your brain understand the new method in which information will be transmitted by the device.